Weekend Jobs
10 Side Hustles You Can Start Today
Looking for a Side Hustle?
building Websites
By far the most lucrative on this list, building websites on the side can add a significant amount to your bank account each month. There are so many wonderful website builders out there that make it fast and easy to create a website. This is a side hustle that can turn into a six figure income if done right. 
Online Tutoring
With a majority of kiddos going to school virtually, parents are looking high and low for good tutors. Starting up a tutoring side hustle could not come at a better time. This is an especially great side hustle for teachers who are looking to supplement their incomes or substitute teachers who most likely won't be seeing a lot of classroom time this year.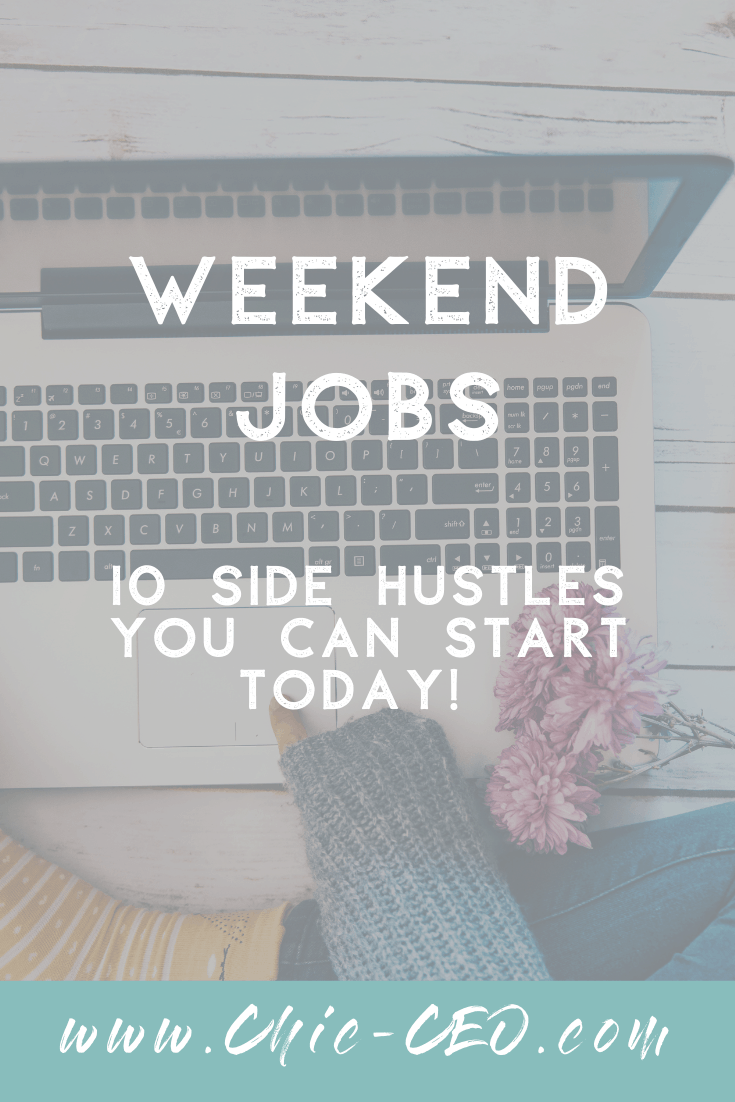 Virtual Assistant
Businesses have always needed expert help – and if you are organized and task oriented, you can make a fantastic little business for yourself being the person who get's things done. One "hole" I see that most virtual assistants aren't filling is virtual assistant work for corporate execs. People who work in corporate positions are swamped and need help with research, organizing, communications, etc.
Vehicle Sanitization
It's one thing to get your car vacuumed out, but it's a totally different thing to have your vehicle completely sanitized. As a mom of two little ones, I'm forever sanitizing my life. It would be wonderful to have someone come and sanitize my vehicle.
Proof Reading
Content, content, content. That's the name of the game these days. At the time of this writing, I have written 7 articles for my Forbes column in the last 2 days. I cringe when I think of the typos and mistakes. I know I will be up late working on this and perfecting it. A lot of bloggers and content creators need a second pair of eyes on their work before they hit publish. If you can be a quick resource with a fast turn around time – you'll have a nice side hustle on your hands.
teach on TakeLessons
If you have a certain skill you can teach and want to do it 1:1, sign up to teach on TakeLessons. Some teachers make well over $1,000 a month and you could too. Take inventory of what you can teach and sign up.
Email Marketing Consultant
Email marketing can be quite tricky if you don't know what you're doing. But if you know what you're doing, then bingo!! You can be the go to person to help businesses get their email marketing up and running. Getting them set up with an email marketing provider, creating templates, running reports and creating workflows based upon reader behavior can turn into a very lucrative side hustle.
AirBNB Experiences
Due to the lack of travel right now, AirBNB has created "Experiences" where people can pay to join others online for certain experiences. Things like "Harry Potter Virtual London Tour" or "Sangria and Secrets with Drag Queens" or "Ghost Hunting in an Opera House."
If you live in an interesting place, or you have an "experience" you can bring to the masses virtually – you can do pretty well on AirBNB Experiences.
Seasonal Landscaping: Mowing, Leaf Raking, Snow Shoveling
If you have the equipment, starting a small landscaping side hustle might be perfect for you. Secure five or six clients and your weekends could be filled with enough work to really pad your bank account. Even if you choose one of these to do seasonally, say you mow lawns from April to September, you can amortize the payments over 12 months for your clients. This gives you some peace of mind that you'll still be getting paid through the off-season.
Ghost Writer
All content creators have more than enough they need written. A lot of business owners want to write books, but just don't have the time. Ghost writers save the day. If you have a knack for writing and are fine not taking the credit for your words, it should be pretty easy to find bloggers and other content creators that need your help. Most content creators will give you the keywords, bullet points and tone of what they need written – you just need to use your talent!